IT was all worth it! Collecting and transporting the second hand valuables from friends, like children shoes and some winter clothes, Käthe's hand knitted socks. Although it felt like I had packed only bricks into my mega suitcase, when I tried to drag my huge suitcase from Terminal to Terminal in Frankfurt. My "porters" were far away, waiting for me in Nepal. So, it was "drag it yourself" time. But once again I know I will do it again. I know once again WHY I made myself go through 30 kilos of luggage .
In summer, when Nima left he had already packed the bags full up to 32 kg with as many good things as we could fit in. This time it was my turn, me too, from the left overs, as much as I could pack. And in Nepal the huge wall world maps already waited for me which Bishow had taken as "super size" luggage in summer. The maps German schools don't want anymore in the time of "cultural revolution" … (digitalising everything, devaluating whatever was invented and developed at some point… – madness..) Anyhow I had saved the world maps from being thrown into the rubbish container. And they now went to Kailash Bodi School, they appreciate the "made in Germany" quality of educational material.
So besides taking the money to all these destinations, we had heaps of stuff to take into the village.
15 days Nepal were not really a big window for getting all the things done which had to get done, but Nima was able to organise a lot before my arrival that by the time I arrived in Kathmandu we could just start crossing things off, on the "to-do-list". Firs tday we went to Marshiyangdi school and paid the fifth year tuition for Maya. We had to change the money for the "god children" in the village and had to get the money into Nimas bank account for he will be the one to look after Kandi once she comes into KTM to start a different life, being at Kailash Bodi School. The school uniforms had been ordered and were still being sewn when I arrived but they were finished just in time for our departure on christmas eve morning.
Besides the school uniforms, we also had packed our woolen socks from Käthe, the second hand clothes and shoes, the matress and blanket for one of the families, the money for our godchildren, pencil from my school children in Germany , two footballs and of course our bags for the "hometrekking" experience onto and into the Jeep. After one day in the jeep our extremly hard working porters, Nimas papa and bro and Geljin one and two took over and carried the load into the village! (Two long days of up and down!) While I was (happily) home-trekking and struggling with the "flatness" of Nepal.. (sometimes up, sometimes down… in the end it evens out to "flat") These men made it possible that all of it arrived safely in the village! How strong they are! REALLY!
Arriving in the village after two days we had 3 days of bringing smiles into peoples' faces. Day one we distributed the school uniforms which happened just in time before the first snow. This year the winter has come early. Day two we had the sponsored children party and handed over the money to the families. Day three was time for closest family and friends.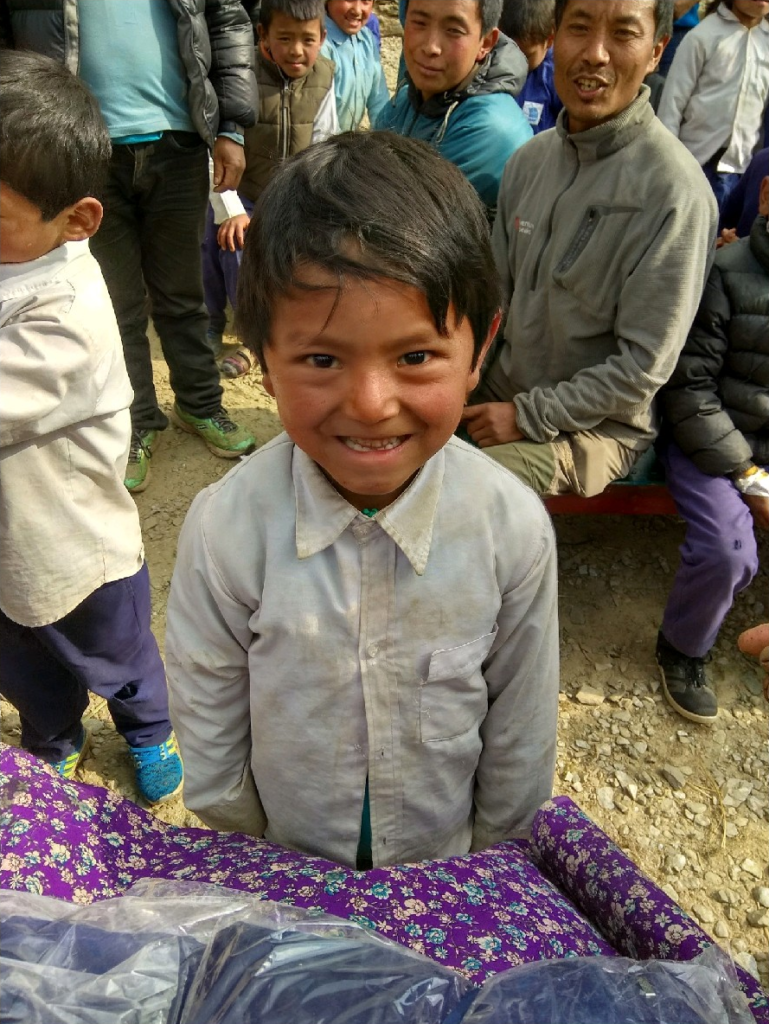 I just love them all!!!!!! Nothing else I could say. Mega hearts!
After three days we made our way back towards KTM still full of all the joy which we were part of, but I was already moving towards "home" (the other one) again. The long way home and a New Year's Day driving back towards Kathmandu. Full of thoughts … One day later I brought the maps to Kailash Bodi and the last football reached its destination, too (Thanks to the " Aircracks" again!).
Well, to put it all short… it was all worth it and I am happy this was possible, the schedule was almost German but since everything worked out perfectly….. no worries!
And not to forget the children in KTM… I tried to catch up with all of them… but it was not possible, not enough time an now it is over… But at least this one WE met!